Instant Vehicle & Car Transport Quote NZ Wide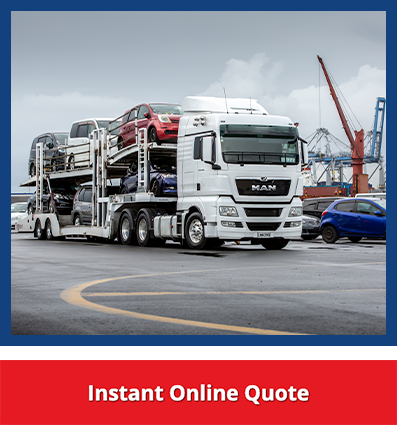 Transporting a car around New Zealand can be a very long journey! Whether you are looking for car transport from Christchurch to Auckland, Wellington to Tauranga or Auckland to Invercargill, let the vehicle transport specialists make the process as easy and reliable as possible for you.
Here at Dolphin Cartage, we make car transportation in New Zealand 100% hassle-free. Simply get in touch with us through the phone (09 373 5881) or get an online quote from any location in New Zealand to any destination. Through our simple online paying system, we can action your booking as soon as you complete the payment.
If you are looking to transport a running vehicle, an instant online quote is available promptly. If you have a car which is not in a driving condition or 'non-starter', simply fill in the form or give us a call to get a quote as soon as possible. You will find that transporting a running vehicle is relatively cheaper compared to a non-running vehicle.
Once payment is received, it usually takes 1-3 working days to pick up the vehicle or you can drop it off at our nearest depot. We generally like to say you can expect delivery within 5-10 working days. This does not only factor in the distance traveled but also the frequency of the auto transport route.
Some popular routes and expected delivery time:
Car transport from Christchurch to Auckland, delivery can take 7-10 working days
Vehicle transport between Wellington to Tauranga is 4-5 working days
Wellington to Auckland is 2-3 working days
Invercargill or Dunedin to Auckland is 7-12 working days
Van and Commercial Vehicle transport is very similar to car transportation throughout New Zealand.
We understand that business requirements will need your van or commercial vehicle to be in the right place at the right time.
Feel free to give us a call on 09 373 5881 or fill in our online quote form.
We will need to know the dimensions and running condition of your vehicle as special auto transport may be required if it does not fall under certain standards.
By allowing us to handle the logistics in transporting your vehicle fleet across the country, you save precious time that can be directly invested back into your business.
Transporting your tractor or heavy machinery involves no regular vehicle transport.
Only a few transport specialists can offer this service to a high and safe standard and we are one of them.
Our transport network in New Zealand knows no limits and we can move anything from a standard tractor to a helicopter.
If we are not able to quote you for any reason, we will gladly point you in the right direction.
Tractor or heavy machinery transport in New Zealand requires specific transport equipment, therefore it is important to have certain details of your vehicle ready.
We will need to know the dimensions, make and model, weight and running condition.
This will ensure we can quote you promptly.
If you have any questions, do not hesitate to contact us on 09 373 5881 or fill in our online quote form.
Whether you have recently purchased a boat/yacht or would like to go on holiday with it, finding the safest transport will be a priority.
There are two options for boat transport in New Zealand.
We can truck it up or down the country.
The other option would be to ship it on a vessel.
Shipping is generally cheaper, however, it may take longer and is largely dependant on the shipping schedule and availability of vessels.
We take into consideration things such as the weight and dimensions of your boat when finding the best boat/yacht transport solution for you.
You can rely on our expertise to get the job done right.
Simply fill in our online quote form or give us a call on 09 373 5881 and we will prepare a quote to transport your boat anywhere throughout New Zealand.
Whether you are buying or selling a motorcycle, Dolphin Cartage provides a reliable and secure transport service, New Zealand wide.
Your motorbike is handled with the utmost care during transport.
We offer a door to door service, making the entire process very easy to deal with.
One of the members in our Operations Team and the driver will be in touch throughout the process to ensure you are kept up to speed during the transport of your motorcycle.
Regarding the delivery timeframe, we generally ask to allow 10-15 working days from pick up to delivery.
When booking with us, you can rest assured your motorbike is being transported in specialised trucks with no other general cargo.
For a quote or any follow-up questions, contact us on 09 373 5881 or complete the online quote form.
Whatever your circumstances, caravan and motorhome transport in New Zealand may be best left with the professionals.
Dolphin Cartage offers a door to door service.
You will simply need to let us know the dimensions, weight, model and make of your motorhome or caravan, and we will handle the rest.
In most instances, trucking is the best option, however, shipping your vehicle may also be an option.
Our expertise means we will give you the best option available to transport your motorhome or caravan.
Given our experience in national and international vehicle shipping and auto logistics, rest assured, your vehicle transport experience will be as hassle-free and secure as possible.
Call our landline 09 373 5881 or complete the online quote form to find out more.